Abtron Home Theater & Audio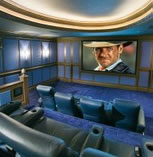 Why you want Abtron to install it for you:
Enjoy picture and sound excellence in the comfort of your own home.
Confidence that your theater is setup and performing as it should.
Built in solutions to hide unsightly electronics and speakers.
Quality components that simplify operation, and go beyond just audio and video.
Professional installation and setup for optimal hi definition picture and sound.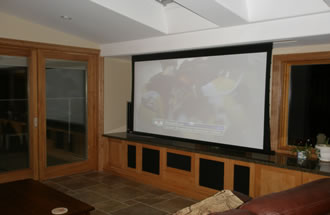 Home Theater
This 96" projection screen is discreetly hidden in the bulkhead, you don't even know that it's there until movie time.
The surround sound speakers are in-ceiling and double as an audio zone for listening to music.
The rear speakers are gently blended into the wall behind the couch, the best position available for this location, but totally unobtrusive.
Home Audio
So, you want music all through your home? You want to be able to change your choice from any location? You want centralized control? You've got it!
Let's make your audio/video system just how YOU want it and blend it in to your home. Make it easy, even relaxing to use, for the whole family.
Local Control

For our customers convenience click on the keypad picture to view available styles and a list of their capabilities.
Wires? What Wires?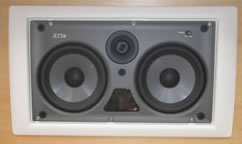 Using built-in speakers keeps those unsightly wires out of the way. In-wall or in-ceiling speakers come with paintable grills so you can "blend" your surround sound and your audio zones in, they're perfect for any room. Check out the speaker picture link to see how you can hide your home theater in your family room - you CAN have both!
"If you can't run your system, with minimal instruction, we haven't done our job properly! And we promise to do our job right!"