Abtron Home Theater & Audio. Wires? What wires?
Here we show a beautiful built-in cabinet solution, both during installation and after finish. The speakers shown here are by polkaudio®. We find them to be trouble free and they are our speaker of choice.
During :-

After :-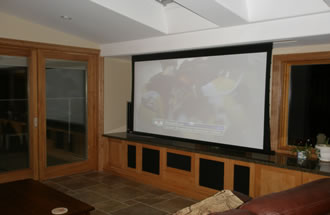 For HD Home Theater Viewing
The screen is revealed! It is discreetly hidden in the bulkhead, you don't even know that it's there until movie time. Very inconspicuous.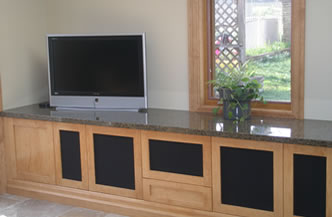 For Daytime Viewing
The screen is raised to reveal a LCD Flatscreen, still no wires!
Speaker Choice
We DO recommend the polkaudio® speaker lines. They are available for ANY application, even a mixed built-in/free standing application. Their product is superb, as is their customer service. We have NEVER had a dissatisfied customer with polk speakers. However, we will integrate your existing speakers, (or speakers of your choice).