Abtron's History
Why you should hire Abtron Home Automation:
Ontario Registered Electrical Contractor.
Home Automation solutions provider since 2000.
Staff with 20+ years of automated solution experience.
Personal, professional, friendly and courteous customer service.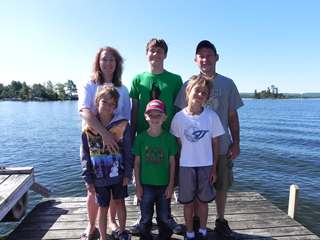 Abtron Automation was created in 2000, in Stratford, Ontario by husband and wife, Jeff and Nicola (Nikki) Diebolt. Pictured here at the cottage with their four sons, hopeful future designers and/or installers!
Originally we were an Industrial Automation company, designing, building, programming and installing machinery worldwide. Jeff always had a keen interest in, and natural ability with, programming - especially HMI's (human-machine interfaces) and other control systems.
His interest was soon caught by the possibilities of residential control systems and it was a natural progression that led us into this area of expertise.
With more than twenty years of experience in the industry and with fully licensed electricians on staff we were more than ready for this transition. We soon became an official Crestron® Dealer and have realised how much potential there is in every home for these services. Our electricians are also certified Crestron® Installers, working their way to becoming Crestron® Certified Independant Programmers.
Home automation should keep you more comfortable, secure and informed. This can be done simply, freeing your time and mind for more important things. Today's home contains combinations of wired and wireless networks, let us have the headache of connecting them (and you) to the outside world. We can provide the expertise that allows you to take advantage of what today and tomorrow's technology has to offer.
"Our customers truly value the reliability of our service, especially the personal attention we give to each and every one of them."