ECRA/ESA License #7006219

Please call to book an appointment
Let us show you how custom home control can enhance your life.
(519) 273-4315
Abtron Structured Wiring?
Why you should have it:
Make your home ready for today's technology, and capable for the future.
Share your music, video and pictures throughout your entire house from a single location.
High quality cables and connections for noise free telephone, data, picture and sound.
Added value for your home.
Professional, concise, structured cabling installation.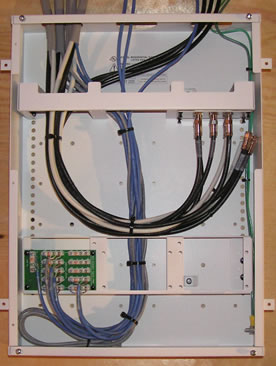 What is Structured Wiring?
Structured Wiring is a planned cabling system which systematically lays out the wiring and wire management necessary for communications, including voice, data and video.
Why get it?
When the kids are old enough, maybe they'll want their own telephone, computer, internet, iPod dock.....the list goes on!
The best way to make this easy? Plan for it! And that is easily done.
Help yourself right from the start - insist with your builder that this most basic element is installed in your new home.
What About Wireless?
Wireless is certainly a solution - but isn't really the answer. Wireless solutions are more prone to "noise" and interference, hard wired systems tend to have less problems and it is easier to find and fix them. Wired connections are also faster. There is no reason that you cannot have wireless as an addition to your wired system.
We keep it NEAT!
We take great pride in the appearance of our installations, not just in the appearance of your rooms after finish. Your home network center should be clean and tidy, with the cables clearly marked for future reference - all this is standard in ANY installation by Abtron.
Scroll over the picture above and click on the links to see a close-up of the telephone module and satellite distribution module.
We offer full electrical services, but are more than willing to work alongside your electrical contractor if you already have one.