Testimonials
We recently renovated our home, which included the installation of a whole home distributed audio system, video control system and a home security system from Abtron.
We have had the most marvelous personal service with them - We would recommend them to anybody. Their customer service is second to none. A most remarkable company!
Johanna Metcalf & Robert Reid, Stratford.
Our customers are more than happy to talk to you, please call us for their information.
Please call to book an appointment
Let us show you how custom home control can enhance your life.
(519) 273-4315
Abtron Home Automation
Why choose an Abtron Home Automation System:
Simplify your life giving your home the intelligence to take care of itself.
Control for added comfort and security in your home environment.
Improve energy efficiency by using lighting, climate control and utilities intelligently.
Home systems working together for the ultimate lifestyle of comfort and convenience.
Exclusive area dealer for products from the world leader in home automation.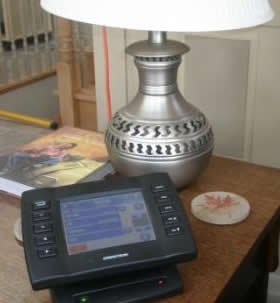 Do you want to enhance your family's lifestyle? Whilst adding luxury to your home? Abtron designs systems that are environmentally friendly and encompass your wishes.

We offer the latest in technology, from the elegance of lighting control, to the richness of a whole home audio system. All efficiently controlled with a convenient keypad or intuitive touch screen.
Crestron® is our automation platform of choice. It has features, flexibility, and scalability far superior to it's competitors. Systems can be designed for any home, from a condo to a large country estate.

Control anything and everything from anywhere in your home - integrated audio video, home theatre, lighting control, shade control, thermostats and all security components.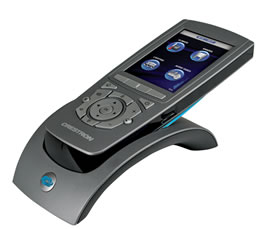 Use the built in scheduler - allow your system to 'learn' how you use your lights and it can make your home appear lived in whilst you are away. Abtron delivers the home of the future, today, with some help from Crestron®.
Simplify everyday tasks and reduce power consumption as Hydro Companies are implementing tiered billing for peak usage and digital meters.