ECRA/ESA License #7006219

Please call to book an appointment
Let us show you how custom home control can enhance your life.
(519) 273-4315
Abtron Electrical Services
Why Abtron is a good choice:
Ontario Registered Electrical Contractor.
Continuity with audio, video and home automation services we offer.
One contractor, all in one home wiring solution.
Service close to home, fast and convenient.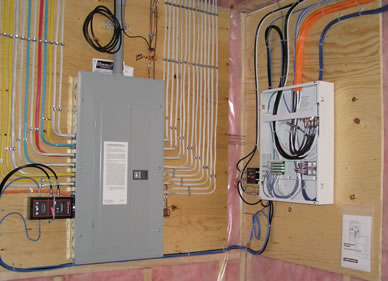 Why Use Us?
No matter how many wires you have we maintain an orderly, neat appearance as shown here.
We take pride in all aspects of our installations, from basement to roof top, completing work within a reasonable time frame. Some situations cannot be forseen, but we do our utmost to anticipate them.
Customer Satisfaction
Is, without a doubt, our priority. Expect personal customer service, all inquiries answered and we treat you and your home with absolute respect.
Dependable and Reliable
As a registered electrical contractor we are answerable to the ESA for all electrical work that we undertake (as are all electrical contractors).
But ultimately, we are answerable to you, the customer. To us, that is just as important.
Be safe, get inspected.